About us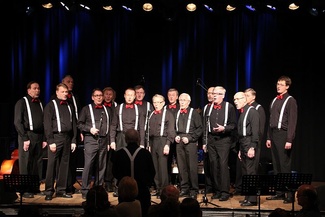 Information on Part A Chorus (formerly Part A Boys)
Part A Boys was the first Finnish male choir concentrating on and performing a cappella barbershop music. The chorus has been founded 2004.
Since autumn 2015 female barbershop singers have been welcome to join the chorus. We now are a mixed chorus and have several active ladies which has made expecially our tenor, lead and baritone parts fabulous!
The number of singers has been increasing steadily, now reaching a total of 30 active members. We are ready to share our interest to anybody willing to join us - after a singing test.
We have our rehearsal once a week from January to May and from September to November, on Wednesdays at 6.30 pm. A few internal events can be arranged during summer. Please contact us for more information.
We have at least one concert of our own every year, mostly in Spring. Apart of that, a singing camp weekend is held at least once a year. We also take actively part to the concerts arranged by the Finnish Association of Barbershop Singers FABS, the national organization of barbershop lovers.
One of the most awaited occasions per year is a coaching event, with top international coaches visiting Finland. Names like Tom Gentry, Doug Harrington, Jan Alexandersson, and Emanuel Roll tell a lot to those who follow the music genre.
(Updated 2018.09.11, OL)
---